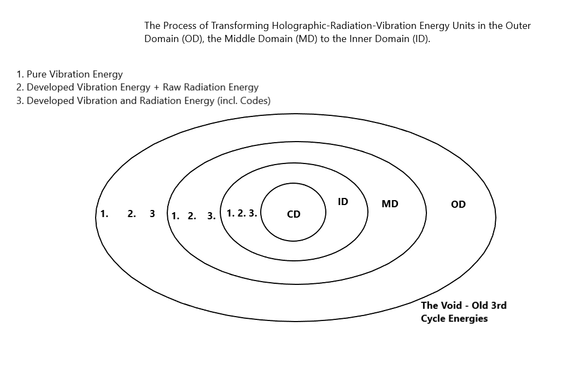 In the work to gain the original DE1 Outer Domain energies, we understand how they are represented the bio-field code sequences connected to the body, the vibrational field and the radiation field.
The energies are dynamic in nature because they permeate each other. The dynamics are in concordance with the properties of the energy in use within that section.
The properties of the different forms of energy can be changed via alterations in the code systems.
Below are the 6 original layers of energy within the original reality fields connected to the true 6-layered energy system of the transformative energy system connected to the template:
Radiation – emission outwardly spherical waves MDDE2

Vibration – vibration or resonance oscillation spiral MDDE2

Coding Sequences - composing the energy fields MDDE2

Holographic – as lattice networks, dynamic ODDE1

Holographic – as grids, dynamic ODDE1

Crystalline/geometrical – fixed fields via plasma crystal technologies ODDE1